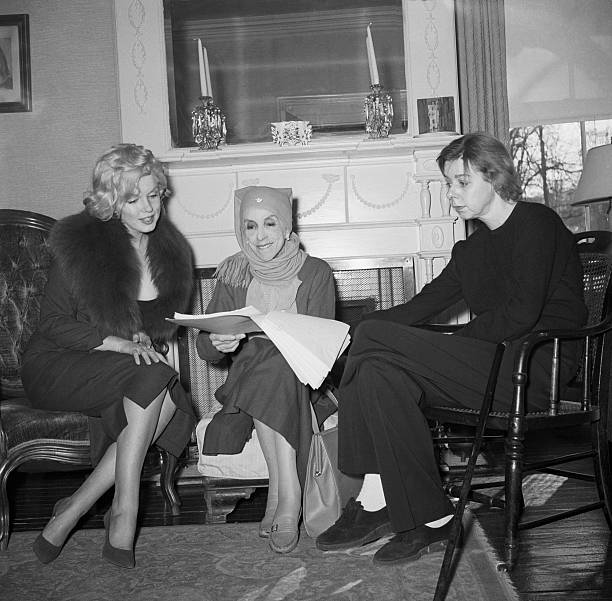 Marylin Monroe, Isak Dinesen, Carson McCullers – Februar 1959 Nyack, New York
Carson McCullers, Die Ballade vom traurigen Café 1943
Die Liebe ist erstens einmal ein gemeinsames Erlebnis zweier Menschen; die Tatsache jedoch, dass es ein gemeinsames Erlebnis ist, bedeutet noch nicht, dass es für die beiden Beteiligten ein ähnliches Erlebnis ist. Es geht immer um den Liebenden und den Geliebten – doch stammen die beiden aus verschiedenen Landen. Oftmals löst der Geliebte nur all die aufgespeicherte Liebe aus, die bis dahin so lange im Liebenden geschlummert hat. Und irgendwie ahnt das auch jeder Liebende. Er fühlt es in seinem Herzen, dass seine Liebe ihn vereinsamt. Er erlebt eine neue, seltsame Einsamkeit, und er leidet unter dieser Erfahrung. Es bleibt dem Liebenden also nur eins zu tun: er muss seine Liebe nach besten Kräften in sich beherbergen; er muss sich eine vollständige, neue Welt in seinem Innern aufbauen, eine starke und eigentümliche Welt, die an sich selbst Genüge hat. Und dieser Liebende, das mag hier hinzugefügt werden, braucht nicht unbedingt ein junger Mann zu sein, der für einen Trauring spart – es kann Mann, Frau oder Kind, einfach irgendein menschliches Lebewesen auf unserer Erde sein.
Aber auch der Geliebte kann sehr verschieden beschaffen sein. Die merkwürdigsten Leute können Liebe auslösen. Ein Mann kann ein zitteriger Urgroßvater sein und noch immer ein fremdes Mädchen lieben, das er eines Nachmittags vor zwanzig Jahren in den Straßen von Cheehaw sah. Der Prediger kann eine Gefallene lieben. Der Geliebte kann treulos sein, kann fettiges Haar haben oder schlechte Gewohnheiten, ja, und der Liebende mag das alles so deutlich wie alle andern Menschen erkennen, doch das berührt das Wachstum seiner Liebe nicht im geringsten. Eine höchst mittelmäßige Person kann Gegenstand einer Liebe sein, die so wild und außerordentlich und schön wie die Giftlilie im Sumpf ist. Ein guter Mensch kann eine heftige und erniedrigende Liebe auslösen, und ein stammelnder Irrer kann in einer andern Seele ein zartes und schlichtes Glück hervorrufen. Deshalb gelten Wert und Eigenart einer Liebe einzig vom Liebenden her.
Und das ist auch der Grund, weshalb die meisten unter uns eher Liebende als Geliebte sein wollen. Fast jeder möchte der Liebende sein. Und die ungeschminkte Wahrheit lautet, dass viele es im tiefsten, verborgensten Grunde gar nicht ertragen können, geliebt zu werden. Der Geliebte fürchtet und hasst den Liebenden, und nicht ohne Grund. Denn der Liebende versucht immer und ewig, den Geliebten zu entblößen. Der Liebende sehnt sich nach jeder nur erdenklichen Annäherung, auch wenn ihm das Erlebnis nichts als Qual bereitet.
Carson McCullers, The Ballad of the Sad Café 1943
First of all, love is a joint experience between two persons — but the fact that it is a joint experience does not mean that it is a similar experience to the two people involved. There are the lover and the beloved, but these two come from different countries. Often the beloved is only a stimulus for all the stored-up love which has lain quiet within the lover for a long time hitherto. And somehow every lover knows this. He feels in his soul that his love is a solitary thing. He comes to know a new, strange loneliness and it is this knowledge which makes him suffer. So there is only one thing for the lover to do. He must house his love within himself as best he can; he must create for himself a whole new inward world — a world intense and strange, complete in himself. Let it be added here that this lover about whom we speak need not necessarily be a young man saving for a wedding ring — this lover can be man, woman, child, or indeed any human creature on this earth.
Now, the beloved can also be of any description. The most outlandish people can be the stimulus for love. A man may be a doddering great-grandfather and still love only a strange girl he saw in the streets of Cheehaw one afternoon two decades past. The preacher may love a fallen woman. The beloved may be treacherous, greasy-headed, and given to evil habits. Yes, and the lover may see this as dearly as anyone else — but that does not affect the evolution of his love one whit. A most mediocre person can be the object of a love which is wild, extravagant, and beautiful as the poison lilies of the swamp. A good man may be the stimulus for a love both violent and debased, or a jabbering madman may bring about in the soul of someone a tender and simple idyll. Therefore, the value and quality of any love is determined solely by the lover himself.
It is for this reason that most of us would rather love than be loved. Almost everyone wants to be the lover. And the curt truth is that, in a deep secret way, the state of being be loved is intolerable to many. The beloved fears and hates the lover, and with the best of reasons. For the lover is forever trying to strip bare his beloved. The lover craves any possible relation with the beloved, even if this experience can cause him only pain.
Carson McCullers, La balada del café triste 1943
Ante todo, el amor es una experiencia compartida por dos personas, pero esto no quiere decir que la experiencia sea la misma para las dos personas interesadas. Hay el amante y el amado, pero estos dos proceden de regiones distintas. Muchas veces la persona amada es sólo un estímulo para todo el amor dormido que se ha ido acumulando desde hace tiempo en el corazón del amante. Y de un modo u otro todo amante lo sabe. Siente en su alma que su amor es algo solitario. Conoce una nueva y extraña soledad, y este conocimiento le hace sufrir. Así que el amante apenas puede hacer una cosa: cobijar su amor en su corazón lo mejor posible; debe crearse un mundo interior completamente nuevo, un mundo intenso y extraño, completo en sí mismo. Y hay que añadir que este amante no tiene que ser necesariamente un joven que esté ahorrando para comprar un anillo de boda: este amante puede ser hombre, mujer, niño; en efecto, cualquier criatura humana sobre esta tierra.
Pues bien, el amado también puede pertenecer a cualquier categoría. La persona más estrafalaria puede ser un estímulo para el amor. Un hombre puede ser un bisabuelo chocho y seguir amando a una muchacha desconocida que vio una tarde en las calles de Cheehaw dos décadas atrás. Un predicador puede amar a una mujer de la vida. El amado puede ser traicionero, astuto o tener malas costumbres. Sí, y el amante puede verlo tan claramente como los demás, pero sin que ello afecte en absoluto la evolución de su amor. La persona más mediocre puede ser objeto de un amor turbulento, extravagante y hermoso como los lirios venenosos de la ciénaga. Un buen hombre puede ser el estímulo para un amor violento y degradado, y un loco tartamudo puede despertar en el alma de alguien un cariño tierno y sencillo. Por lo tanto, el valor y la calidad del amor están determinados únicamente por el propio amante.
Por este motivo, la mayoría de nosotros preferimos amar que ser amados. Casi todo el mundo quiere ser el amante. Y la verdad a secas es que de un modo profundamente secreto, la condición de ser amado es, para muchos, intolerable. El amado teme y odia al amante, y con toda la razón. Pues el amante está tratando continuamente de desnudar al amado. El amante implora cualquier posible relación con el amado, incluso si esta experiencia sólo puede causarle dolor.